Overview #
The cart abandonment plugin by Booster enables WooCommerce stores to put efforts into improving their store's conversion rate by letting them create and schedule Email Reminders related to cart abandonment.
It means that if your store has a potential buyer who has a few products in the cart, but the purchase is yet pending – even after a certain time duration – your store will automatically send an email to remind him about the same.
You can have several triggers (multiple emails) per abandoned cart to improve your sales. For example, using the Booster Cart Abandonment Plugin, you may send 3 cart abandonment reminder emails after 12 hours, 1 day, and 1 week, respectively.
This plugin also collected the abandonment recovery and loss statistics through multiple metrics to help you improve your process.
List of Features
Set email sender details (name and email address);
Exclude selective user roles from accessing cart abandonment settings and reports;
Create multiple email templates for cart abandonments;
Set trigger (in minutes, hours, or days) per email;
Add coupons (with percent or fixed discount) to push store checkouts.
View in-depth cart abandonment reports.
Note: This plugin is not available for the Booster "Pro" plan users.
How to Enable the Cart Abandonment Plugin in Your Store? #
Note: You must have the Booster for WooCommerce plugin enabled in your store before you follow these steps.
Go to Booster > Plugins.
Click on the Cart & Checkout
Select Enable for the Cart Abandonment
Click on the Save Changes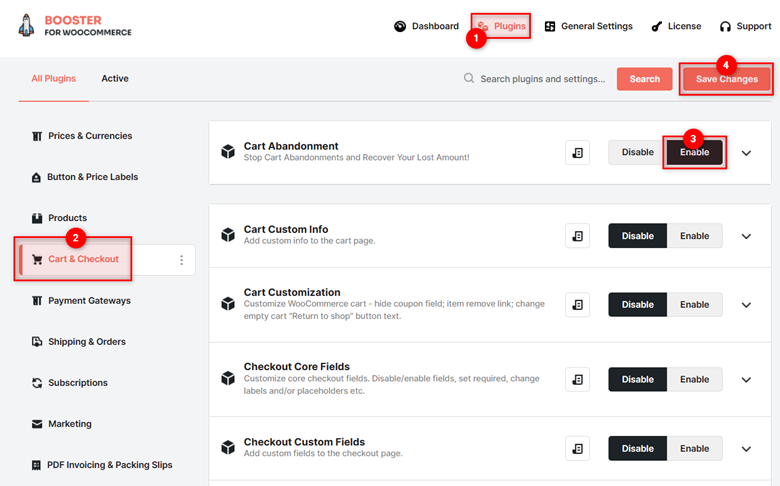 General Options #
Go to the General Options tab if you wish to make the Cart Abandonment Plugin available for selected user roles.
It is reasonable that you do not want to let all types of users change cart abandonment email settings or view cart abandonment reports. So, you can set the user-specific visibility of the Cart Abandonment plugin to one or multiple user roles in your store.
To do so, just follow these steps:
Go to the Booster > Plugins > Cart & Checkout > Cart Abandonment
Look for the Exclude – User Roles field in the General Options
Select the user roles that should not see this plugin in their dashboard. You can use the dropdown list to select multiple options one by one (or at once, using the CTRL key).
Save settings.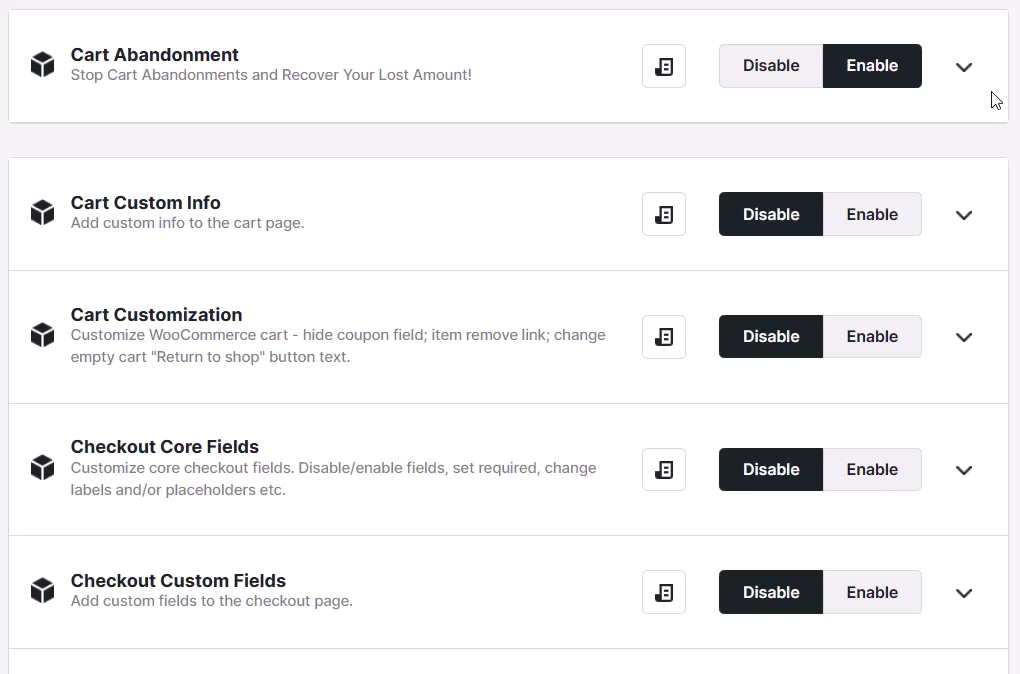 Email Options #
For sending emails related to cart abandonments to your buyers/prospects, you must configure the "From" details of the email. For this:
Go to Booster > Plugins > Cart & Checkout > Cart Abandonment
Enter the From Name and From Email details in the Email Options
Save changes if you do not have to make further modifications.

Email Template(s) – How to Send Out Emails on Cart Abandonment? #
It is found that 2 or 3 cart abandonment reminder emails are able to drive more buyers back to the cart for shopping than just one or no emails. So, we let you send multiple emails out and improve your revenue through them.
While using the Cart Abandonment Plugin by Booster, you can send one cart abandonment email or a series of cart abandonment emails to your prospective buyers in the hope of making a sale.
Step 1: Setting Cart Abandonment Email Count #
To begin sending reminder emails, you must:
Set a Total Email Template count in the Email Templates
Click on the Save Changes button, present next to the input field.

Once it is done, you can start configuring all email templates and setting triggers to automate the mail-forwarding process.
Step 2: Creating Email Templating and Automating their Sending Process #
After setting the number of email templates, you will see options for configuring each of your cart abandonment reminder email templates separately.
For each email template, you need to follow the given steps:
Select Enable to make the email (sending) work for your eCommerce store.
Set a nice (CTA-driven) Email Subject, common for all cart abandonments in your store.
Enter the email content for the main body of the email. You may use HTML tags and a few variables (namely – %coupon_code%, %checkout_link%, %customer_name%, %admin_email%) while drafting this email. Be smart and keep it engaging.
Set the Email Trigger Time in Days, Minutes, or Hours.

If you want to lure your buyer back to your shop using discount coupons & reduce the cart abandonment rate, it's a great idea. Set the Discount Type as Percentage Discount or Fixed Cart
Set the Coupon Amount. As per the type you've picked, it will be applied as a percentage or fixed price on the cart when the recipient uses the checkout link embedded in the email.
If you want to automatically apply this coupon to the buyer's cart, select the checkout for the Auto Apply Coupon If you will not select this option, the coupon will be available for the recipient buyer but will be applied to the cart only when the buyer selects it manually.

Click on the Save Changes button after you are done with creating all cart abandonment reminder emails.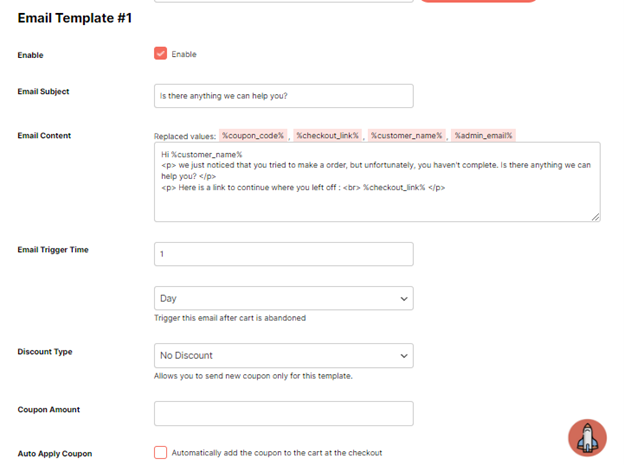 Tools > Cart Abandonment Report #
Note: Make sure to enable the Cart Abandonment Plugin to view Cart Abandonment Reports through the available tool in your store.
Go to the Tools section on the Cart Abandonment plugin dashboard and click on Cart Abandonment Report (See the Module tools option). Alternatively, you may go to Booster > Booster Tools and click on the Cart Abandonment Report tool's link.

In the Booster – Cart Abandonment Report dashboard, you will be able to see various reports, which are:

Recoverable Orders: Details about the orders that are still in the cart, so there is a hope of recovery.
Recovered Orders: Details about the orders that are recovered using abandonment reminder emails.
Lost Orders: Details about the orders that could not be converted.
Recoverable Amount: Amount that recoverable orders can earn for you.
Recovered Amount: Amount that the orders recovered through abandonment email reminders have earned for you.
Recovery Rate: The rate of recovery over the total abandonment efforts.
Initially, when you have just configured the plugin, the tool dashboard will be empty. It will fill up and show precise details related to the above metrics once you will start sending out cart abandonment emails through it to your buyers.
The collected statistics will encourage you to improve the recovery rate and correct your mistakes as you move forward with it.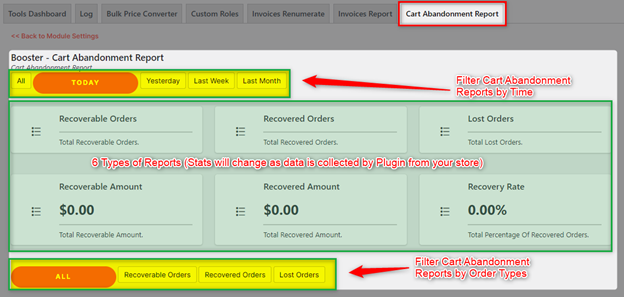 The Cart Abandonment Report can be filtered by Time or order type. Here is a quick list of filters that you can use to create various views of it:
All-time
Today
Yesterday
Last Week
Last Month
All order types
Recoverable Orders
Recovered Orders
Lost Orders
Resetting Plugin Settings #
If you want to clear your applied cart abandonment settings and reset the plugin settings to the default ones, you must:
Go to the Reset Settings section, present at the bottom of the Cart Abandonment Plugin Settings Follow the path Booster > Plugins > Cart & Checkout > Cart Abandonment to access this page.
Click on the Reset Settings
Click OK when the browser popup shows up.
The above actions will reload the page for you and reset the plugin settings at once.