Overview #
Adding the wholesale functionality to your eCommerce business can multiply your shop's revenue and reduce your sales hassles. However, customers (retailers) buying your shop's items would want extra discounts. It also makes a feasible choice to attract more retailers or resellers.
For example, you can offer a 10% discount on 100 toasters, an 8% discount on 150 toasters, a 10% discount on 200 toasters, and so on. The WooCommerce Wholesale Pricing plugin is all that you need for this.
How? Install Booster for WooCommerce Plugin and activate its Wholesale Pricing feature. The setup will be compatible with your WPML configuration, too. So, your multi-branch e-shop can avail of its advantages without much effort.
Note: The shortcode to Display Wholesale Pricing Table in your Pages is:
[wcj_product_wholesale_price_table]
WooCommerce Wholesale Pricing Plugin's Features at a glance:
Activate percent or fixed discount price.
Enable wholesale pricing functionality for the whole store at once.
Enable the wholesale pricing for selective products in the store.
Enable wholesale pricing for one, several, or all user roles in your WooCommerce store.
Set different pricing for the total cart quantity for the whole store.
Set different pricing for total cart quantity on products available for wholesale.
Set per-product wholesale price for different item counts in the cart.
Only apply wholesale pricing when all other discounts are unavailable.
Enable automated currency conversion by country.
Enabling rounding of individual product wholesale prices.
Display discount information on the cart page or hide it.
Include or exclude products and/or product categories from wholesale pricing.
Create Wholesale levels with different discount prices/percentages & minimum quantities.
Benefits of Configuring Wholesale Pricing for WooCommerce:
Fewer efforts to invest in sales per product;
Lesser Shipping costs due to high product volume per consignment;
Lower fulfillment cost;
More focus on B2B relations and higher customer satisfaction level;
Better and easier customer management;
Examples of where to use this plugin:
You can set wholesale pricing for a few products in the store while skipping it for other products. With this, you will be able to cater to your B2C as well as B2B buyers through the same store smoothly.
Store owners can enable wholesale pricing for your retailers and administrator while keeping it disabled for B2C customers. So, if all your products are available for bulk purchasing, why not sell them using the WooCommerce Wholesale Pricing plugin?
Create wholesale pricing tables for all store products or a few products/categories to let all types of store users take benefit from your wholesale schemes.
Frontend View #1 – WooCommerce Wholesale Prices #

Frontend View #2 – WooCommerce Wholesale Prices #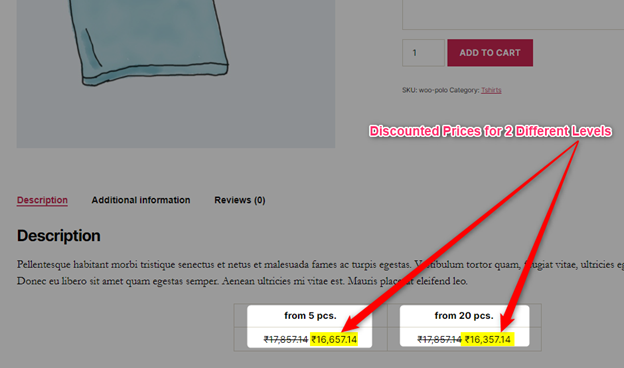 Enabling the Wholesale Pricing Plugin #
Go to your WordPress admin dashboard > Booster > Plugins > Prices & Currencies.
Click on Enable for the Wholesale Price
Save changes.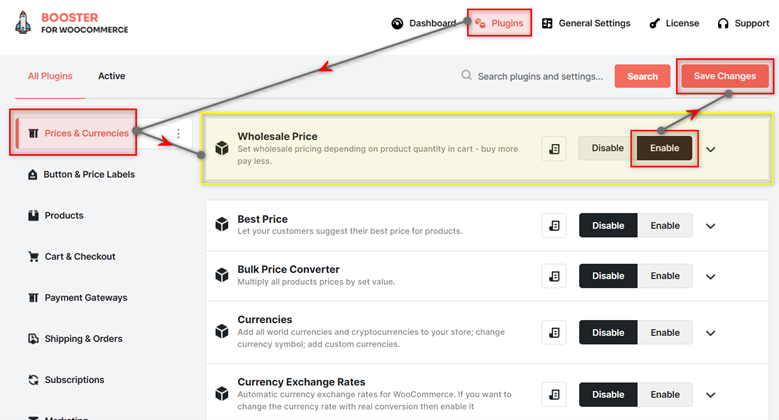 Making Wholesale Pricing Functionality work for your Online Store #
How to Set the Wholesale Pricing Table Heading? #
In the WooCommerce Wholesale Prices plugin settings, look for the Table Heading format field in the Options section. You can use 1 variable in this section, which is:
%level_0min_qty%
So, table headings for each column can be a text string comprising this variable, for example – from %level_min_qty% pcs.

Frontend View of a Table created using the Booster Wholesale Prices plugin #

How to Set Different Wholesale Pricing Rule for Each Product? #
To get started with per-product wholesale pricing, you need to select the Enable Per Product checkbox for your store.

Once you've selected the said option and clicked the Save Changes button, go to a product, for which, you want to set wholesale pricing. Open this product in WordPress Editor using the Edit

Scroll down a little, and look for the Booster: Wholesale Price section in the product description editor.

Select Yes for Enable per Product Levels
Choose the Discount Type as Fixed if you want to give flat discounts to buyers. If you want to enable a percentile discount, select the Percent as your option.
Now, specify the number of levels or tiers your discount scheme has. For example, if you have 3 different discounts for your buyers, enter 3 in this field.
Click on the Update button to save changes and scroll down to the Booster: Wholesale Price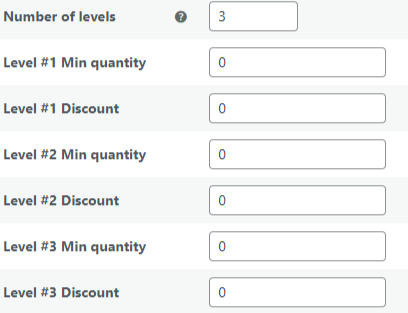 Enter the minimum item quantity required to avail of the discount, and discount price/percentage.

If you have the wholesale feature enabled for different user roles, say for your Editors, you can also set the level count and fill related information for the user role.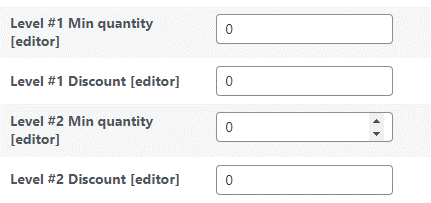 Insert the following shortcode in your product page where you want to showcase the wholesale pricing table:
[wcj_product_wholesale_price_table]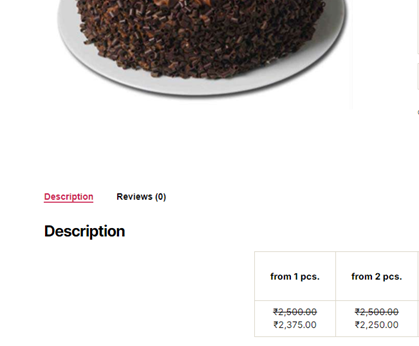 Frontend View of a per-product Wholesale Pricing Table #
How to Disable Wholesale Discount in the presence of Other Discounts? #
Go to Options > Exclusive Use Only and select the checkbox for this option. With this, your store will use wholesale discounts exclusively only, meaning that if there is another discount applicable to a product, wholesale pricing will not work for that particular product.

How to Enable Wholesale Price by Country (In Different Currencies at Once?)? #
Go to Options > Convert Price by Country Module Use Only and enable this checkbox option. The WooCommerce Wholesale Prices plugin will start displaying the converted product price as per user country when you do this.

How to Round the Single Product Price? #
In the WooCommerce Wholesale Prices plugin, go to Options and enable the Round Single Product Price option. After this, your store will show rounded wholesale pricing for different levels.

How to Display Wholesale Discount Information on the Cart Page? #
To enable showing discount information on your shop's cart page, select the Show option for the Discount info on Cart Page in the Options section. Below this, exists a field to enter the display message. Enter a text string with accepted variables concatenated to it.
For this, you may use the following variables in the display message text:
%old_price%, %original_price%, %price%, %discount_value%

How to Enable or Disable Wholesale Prices for Several Products or Categories? #
In the Options section of the WooCommerce Wholesale Prices dashboard in Booster Settings, you will see several 'include' and 'exclude' options for products and product categories.0
Now, please note that by default, all products of your shop are included in wholesale settings. However, if you include any product or product category in these fields, the wholesale prices will appear for the selected product range or category(s) only.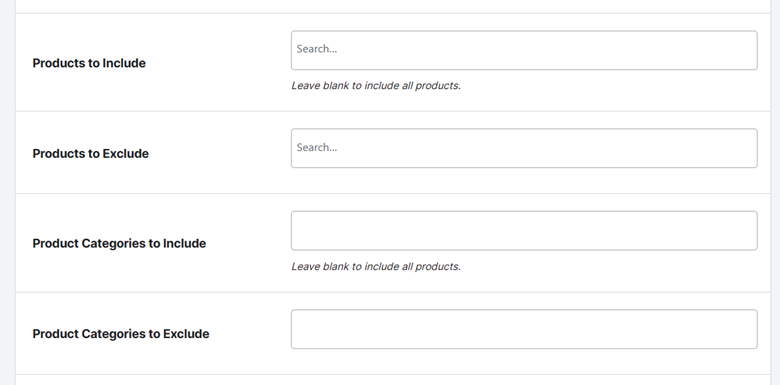 As per your WooCommerce store's requirements, you can select to include and exclude items or whole categories.

Advanced Plugin Settings #
If you have enabled fixed-price discounts for your products, price changes may make your wholesale pricing settings irrelevant. To avoid troubles or losses, you can select the option Disable wholesale pricing for products with "Price Changes" for Advanced: Price Changes.
And if your Wholesale price filter settings are not working properly, try changing its Advanced: Price Filters Priority because chances are that there is some other plugin overriding your wholesale configuration.

WPML Settings #
If you run a store with localization done for different places in different languages through WPML, you can do the same for the WooCommerce Wholesale Prices plugin. Enabled these WPML-related settings To get terms and products in all languages.

Discount Price Calculation #
The total discount for the wholesale prices is calculated as per these settings. For the Template variables, you may choose to consider or neglect the quantity.
1.The value of Discount Value – Fixed Discount Totals specifies how to calculate the total amount when the fixed discount method is applied.
Example: If the discount for a t-shirt is $5 in wholesale pricing and you've selected Do not Consider Quantity, the buyer will get $5 off on his purchase, no matter how many t-shirts he purchases. However, if your choice is Consider Quantity, this discount will work on a per-item level. So, if a buyer orders 20 pieces, he will get a discount of $100.
2. The value of Discount Value – Price Directly Totals specifies how to calculate the total amount when the fixed price directly is in use.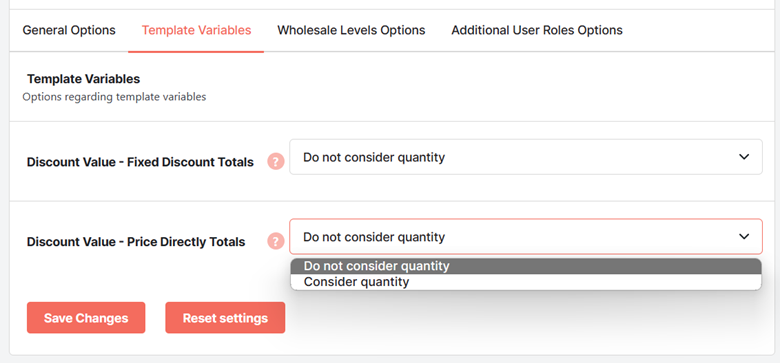 Wholesale Level Options #
To price your product for several wholesale levels store-wide, you can define wholesale level options through these settings.
To begin, set the number of levels. Its value has to be numeric, defining the total types (levels or tiers) of discounts you are giving on your products through your store.
Next, specify the default maximum quantity level.

Once these details are filled in, click the Save Changes button to proceed with entering details for each level. You can provide the minimum quantity and discount details for created wholesale levels.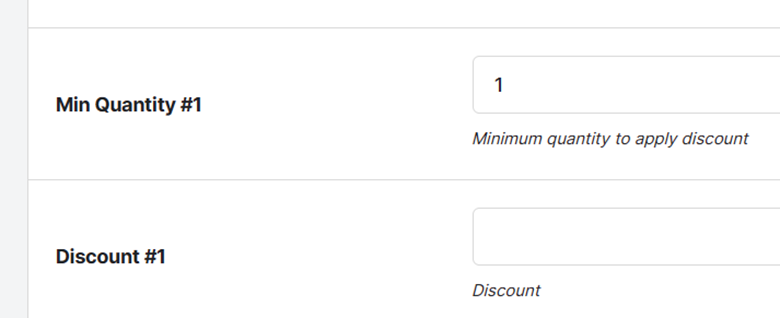 How to Enable WooCommerce Wholesale Prices on the Basis of User Roles? #
Go to the Additional User Role Options and enter the details on user roles eligible for viewing or availing of the wholesale pricing.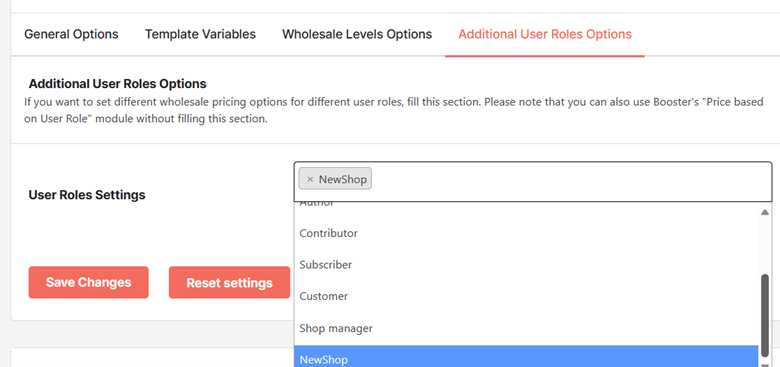 Click on the button Save Changes once, and you will see a few options for each of the user roles selected above. Provide minimum quantity and discount details to complete the form.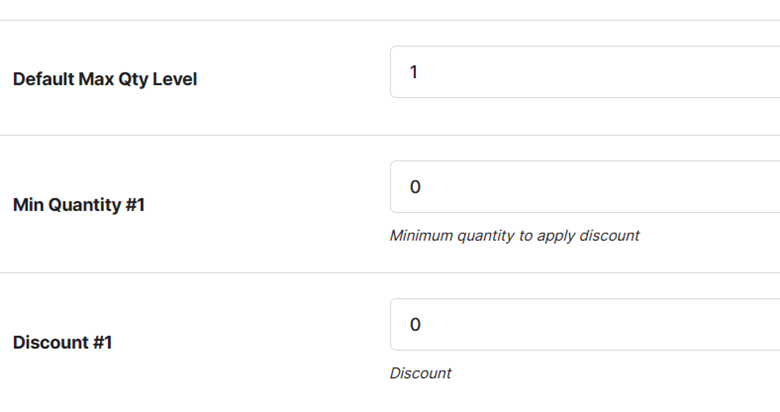 Finally, click on the Save Changes button again.
What to do if I mess up when Configuring WooCommerce Wholesale Prices? #
Made mistakes while trying to change plugin settings? Nothing to worry about.
You can open Booster > Plugins > Prices & Currencies > WooCommerce Wholesale Prices > Settings page, scroll down to the bottom, and click the Reset Settings button.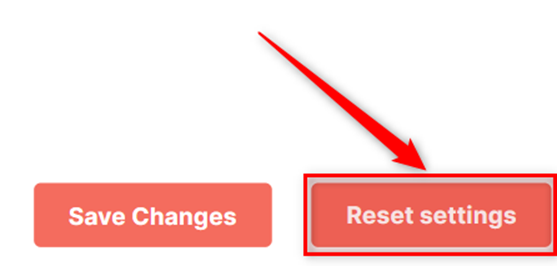 Note: Do not forget to Save Changes once you are done with changing or adding configuration details for Booster's WooCommerce Whole Prices plugin. Also, for some fields, you might need to save changes in between, reload the page, see newly-appeared options, complete the details, and proceed towards finally saving the settings.