Overview #
The Templates option lets you set a template format for the following documents:
Invoice
Proforma Invoice
Packing Slip
Credit Note
All the customer documents (enabled through the Document Options)
You can create a template format using HTML, text, and shortcodes. Find the shortcodes that can be used with this Booster Plugin here.
To create/modify a PDF Invoicing document's template:
Go to your WordPress dashboard > Booster > Plugins > PDF Invoicing & Packing slips > PDF Invoicing > Templates.
Think of the document type for which you want to modify the template, and go to the respective tab.
Modify the HTML Template
Save settings.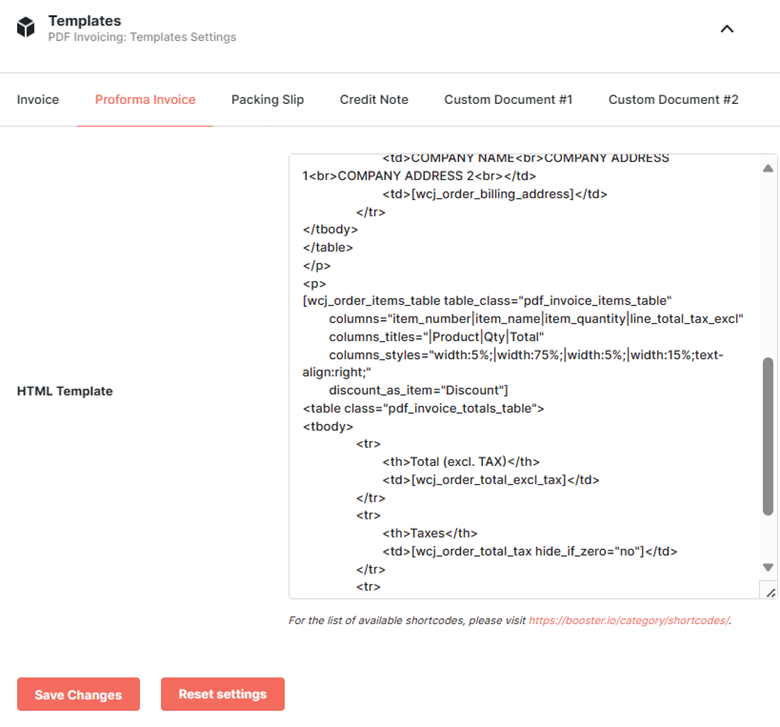 You can use the default templates as-is. However, an important thing to remember is that you must replace COMPANY NAME, COMPANY ADDRESS 1, and COMPANY ADDRESS 2 with the required values.
Wish to create different invoices for users from different billing countries? Just add the parameter billing_country to any shortcode. For example, to create two different invoices – one for customers from France and Belgium, and another for customers from the rest of the world – you can create a template similar to this:
wcj_text billing_country="FR,BE"]Facture[/wcj_text] <br />
To add a page break to the invoice, just insert the shortcode.
To view a sample multilingual invoice template, click here.