Selling in bulk is one way to generate lots of revenue for your WooCommerce business.
If you do, you will want to offer discounts to your customers that buy in large quantities. Doing so will help to entice them to buy some more.
WooCommerce Wholesale Price is a plugin module that allows you to manage discounts for wholesale purchases easily.
Furthermore, this plugin module allows you to set the minimum quantity a customer has to purchase to get a discount.
Additionally, you can set the discount to a particular product – or all.
Key Features of WooCommerce Wholesale Price
Here are some of the interesting features this plugin comes with:
Allows you to display the discount information on the cart page
You can choose to apply a discount to a customer's order only when there's no other discount.
Apply discount only based on the total quantity of products on the cart page.
What Features Does A WooCommerce Wholesale Plugin Need?
How do you tell if a WooCommerce wholesale price plugin is okay for you? Simple. Look out for the following features:
It should allow you to hide certain information from users logged out of their accounts, such as discounted prices.
It should have a quantity selector.
Easy setup and navigation
An efficient ordering system for bulk buyers
Should allow for dynamic pricing
How To Add Wholesale Pricing In WooCommerce
The Booster WooCommerce Wholesale Price plugin module makes adding wholesale pricing to your bulk orders a breeze.
Here are the steps to go about it.
Step 1: You will first have to download the Booster Pro bundle – or a higher version here. After downloading the plugin, upload, install and activate it like other regular WordPress plugins.
After installation and activation, navigate to WooCommerce → Booster Settings → Price and Currencies → Wholesale Price.
Step 2: Enable the Wholesale Price module.
Step 3: Set your preferred discount type. There are two options to choose: percentage or fixed.
Step 4: Set your pricing level. When you are done setting your pricing level, also set your preferred minimum quantity. That is, the minimum quantity of product a customer has to buy for the discount to apply.
Those are just the basic steps. You can take things a bit further by doing the following:
Step 5: Specify how you want the discount to be calculated. You can set it either by product quantity or total cart quantity.
Step 6: If you want, you can exclude certain products from discounts.
Set multiple wholesale discount levels
Set multiple discount levels, so the more products your customers buy, the more they save! Quickly and easily set the minimum quantity and the discount for each level.
Example: Three wholesale levels, with discounts for: 2 pcs (5% discount), 5 pcs (7.5% discount), 10 pcs+ (10% discount).

Display discount table for your customers
Display a wholesale pricing table on the front end of your website for customers to see by using the shortcode.

You can use this shortcode to show wholesale price table: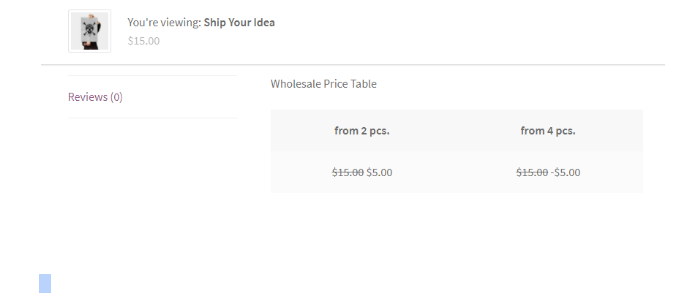 FAQs
How do you set wholesale prices on your WooCommerce store?
You will need a third-party plugin like the Booster WooCommerce wholesale price plugin module to do that. Once installed and activated on your website, setting wholesale prices on your Woocommerce store becomes very easy.
How to Bulk Edit Wholesale Prices in WooCommerce?
One easy and efficient way to do this is by exporting your products' information as an excel sheet, editing the wholesale price in the sheet, and importing it back.
How to Set Up WooCommerce Wholesale Pricing?
To set up WooCommerce wholesale pricing, install the Booster WooCommerce plugin to your website. After installation, navigate to WooCommerce → Booster Settings → Price and Currencies→ Wholesale Price.
Conclusion
Giving discounts to customers who buy in bulk from your store is a surefire technique to grow your sales.
That said, you need a WooCommerce wholesale price solution like Booster to manage your discounts properly. It is easy to set up and use.
Accessible through:
WooCommerce > Settings > Booster > Prices & Currencies > Wholesale Price for WooCommerce