The WooCommerce Custom Emails is a Booster plugin module that allows you to add custom emails to your WooCommerce.
With this plugin, you can send transactional emails to your customers at every point during the buying journey, not just at the end of the checkout.
The issue with transactional emails is that they can sometimes be bland and generic. This can piss off customers, but if you can customize them to suit the customer experience at that point of sale, you will improve their shopping experience.
This is also where WooCommerce Custom Email comes into play; it allows you to customize your emails based on your customers' orders.
Also, it allows you to set admin titles and add custom emails to Woocommerce.
Key features of Woocommerce Custom Emails module
Allow you to set the number of custom emails

Allow you to add admin Title to each custom email

Set email triggers

Multiple email types (HTML, plain text, and multipart)

Email template
Installation of Woocommerce Custom Emails module
To install Woocommerce custom email, you must install and activate the Woocommerce plugin.
If you have already, the next step is to download the Booster for WooCommerce. After downloading the plugin, upload, install, and activate it on your WooCommerce website.
After that, you will want to access the WooCommerce Custom email module. To do so, navigate to:
WooCommerce > Settings > Booster > Emails & Misc. > Emails > Custom Email
To customize Woocommerce Emails, ensure the custom Email module is enabled.
Enter the custom email number and the admin title in the box as seen in the image above.

To set the Custom Email option, go to Woocommerce, click on Email, scroll down to see the new custom email added and click on Manage. After that, enter the recipient name and address.
How to Customize WooCommerce Emails
The WooCommerce custom email plugin module comes with several customization options.
To begin with, it allows you to add as many custom emails as you please to WooCommerce. After adding the custom email, you can select the preferred trigger(s). They include pending payment, canceled, completed, on hold, processing, etc, for new orders.
You can also add as many email recipients as you please, add email subject, select email type, pick an email template, and lots more.
Start by setting number of custom emails in WooCommerce > Settings > Booster > Emails & Misc. > Emails > Custom Emails. In this section you can also set admin title for your custom emails.

After saving settings, go to WooCommerce > Emails, where you will find custom emails you've added earlier.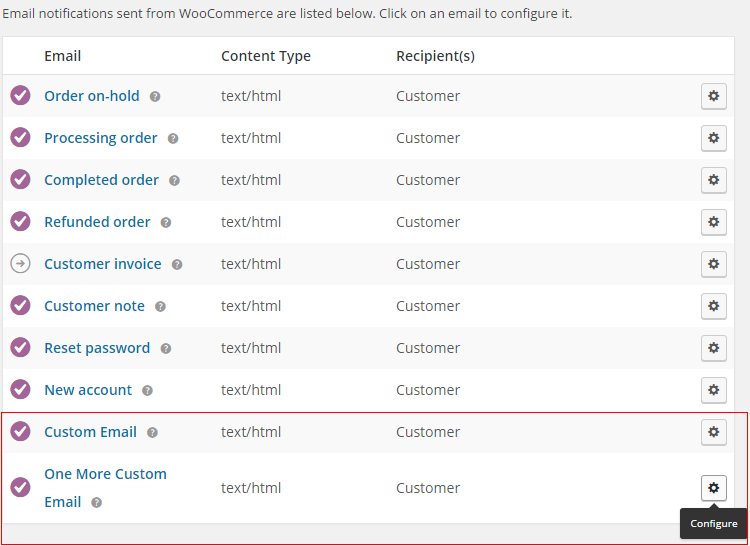 Click Configure on selected custom email. There you will be able to set:
Enable or disable the email.
Email triggers. You can also use these custom emails with WooCommerce Custom Order Statuses.
Email recipients (comma separated) for this custom email. Or enter %customer% to send to customer's billing email.
Email subject.
Email heading.
Email type (Plain text, HTML, multipart).
Email template (HTML or plain text). You can use shortcodes in templates (e.g. Booster's Orders shortcodes).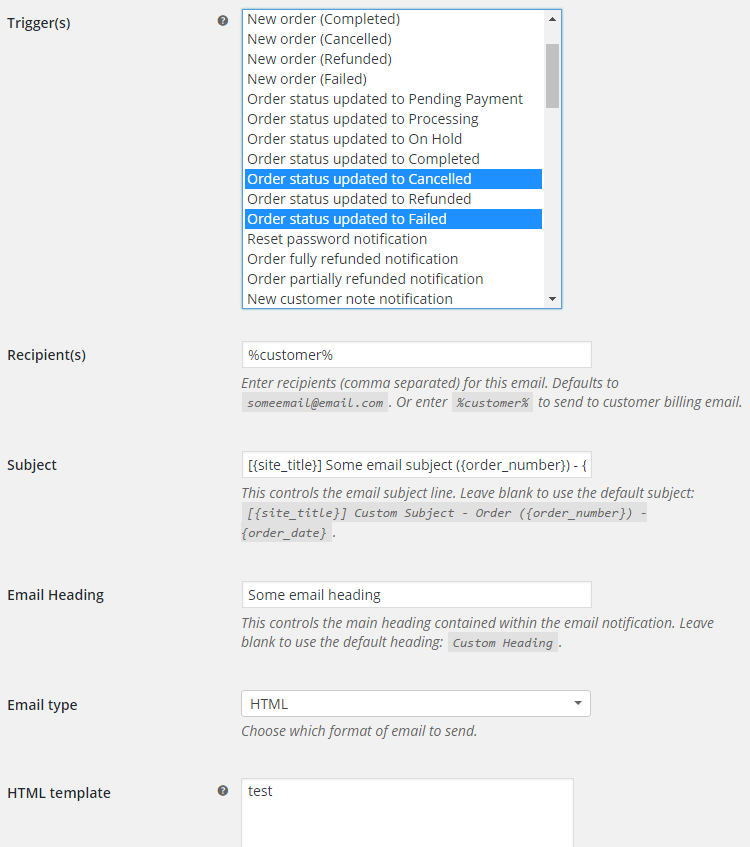 FAQs
What emails can I customize?
You can customize any type of email to fit your customers' preferences. However, customization best works with but mostly transactional emails.
How to Add a Custom WooCommerce Email
There are various ways to add custom Woocommerce Email but the best plugin to use is Booster for WooCommerce. It is easy to use.
How to Customize your WooCommerce Email Templates
There are many Email Template tools out there to customize your WooCommerce Email and there is the WooCommerce Email Template that lets you customize your email manually.
Conclusion
Adding custom emails to WooCommerce will help personalize your customers' shopping experience and make them give you loyalty. This will help to boost your sales and profits.
Accessible through:
WooCommerce > Settings > Booster > Emails & Misc. > Custom Emails