WooCommerce out of the box doesn't come with options that let you sell bookable products on your online store. So, if you sell bookable products or services, you'll need a simple way to sell bookings with WooCommerce.
One way of doing this is by using Booster Plus to add booking products to your online store. In this tutorial, we'll go over some use case scenarios of who might need to sell bookings. We'll also show you how you can start selling bookings through your online store.
Who might need to sell bookings
Selling WooCommerce bookable product is a great way to generate an income online. There are plenty of different types of businesses that may need to sell bookings.
Here are a few examples of who might need to sell bookings products:
Consultants. Consultants such as financial consultants, marketing consultants, brand consultants, all need a way to let clients book slots for their time. WooCommerce bookings are also suitable for agencies that have multiple people offering consultancy services.
Spas and wellness centers. Customers need a way to book different types of spa services such as manicures, aromatherapy sessions, and massages. A spa or wellness center might have different people offering different services.
Therapists. Therapists need a way to let clients book appointments with them. Most therapy session appointments are around an hour long and clients can book slots based on their availability. Usually, there's a single therapist offering therapy sessions so managing time is much easier if you create a bookable product WooCommerce.
Online coaches. People who run online coaching services need to let clients book time slots. These services can be just about anything such as weight loss coaching, fitness training, or dance. Agencies that offer multiple training programs with different online coaches can benefit from offering WooCommerce booking.
By selling bookings with WooCommerce, you can reduce back and forth over email. It's a great way to speed up the booking process for both you and your customers.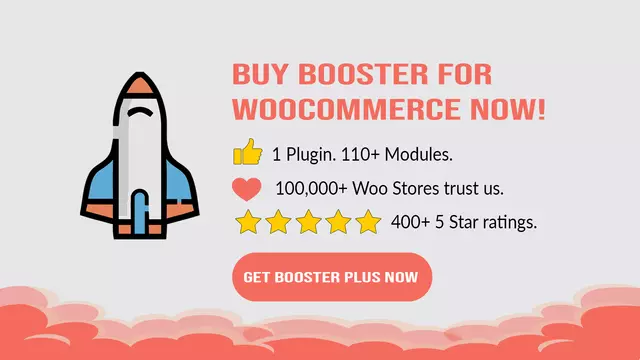 How to sell bookings in WooCommerce
Here, we'll show you how you can sell bookings in WooCommerce using Booster Plus' WooCommerce Bookings module.
Step #1: Enable the WooCommerce Bookings module
First, get the Booster Plus for WooCommerce plugin and install it on your WordPress site. Next, navigate to WooCommerce → Settings → Booster from the admin panel.

From the list of modules, scroll down to the "Bookings" module under the "Products" Section. Tick the checkbox next to it to enable the module. Finally, click the "Save changes" button at the bottom of the screen to proceed.
Step #2: Configure plugin settings
Navigate to Booster → Products → Bookings to configure the booking module's settings. The WooCommerce Bookings module lets you add booking products to WooCommerce.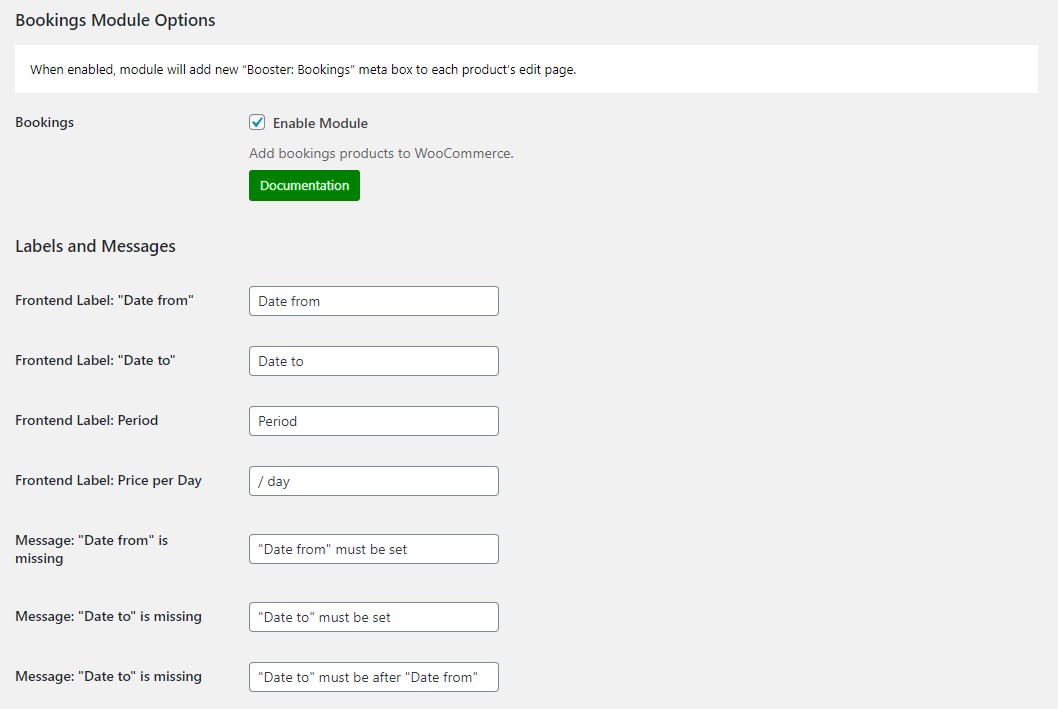 You can calculate the final price of your variable products per day according to your calendar. To do this, select the checkbox under "Price per Day on Variable Products". You can also hide the quality selector for your booking products by selecting the "Hide" checkbox.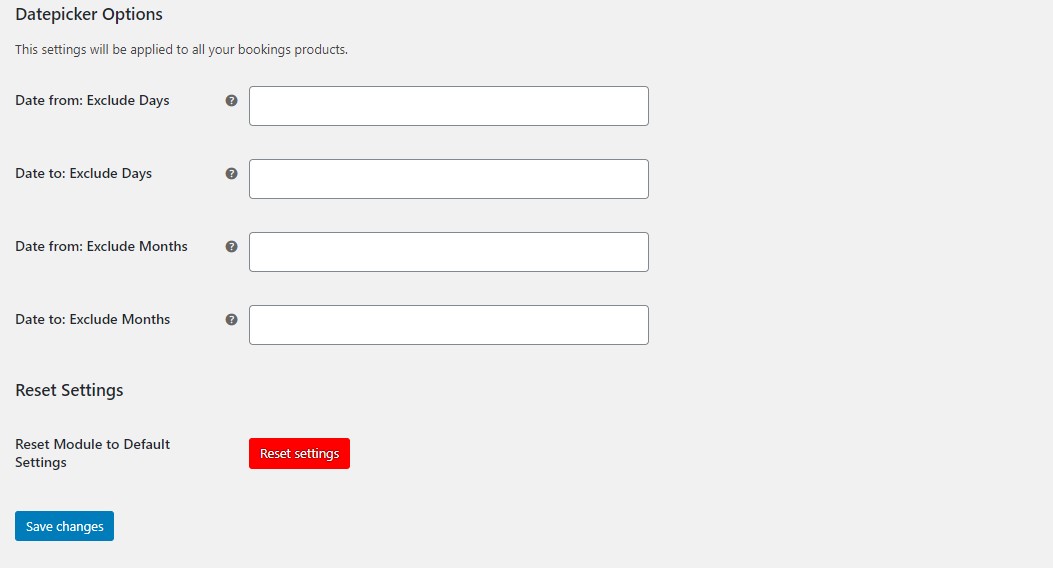 Additionally, users can also set the dates or months to prevent people from booking slots. You can do that by going to the "Datepicker Options" and configuring the dates to exclude bookings from and to. Once everything is set up, click on the "Save changes" button to continue.
Step #3: Set up your booking product
Let's start by creating your booking product. Navigate to Products → Add New from the admin panel. After entering a title and a short description for your booking product, scroll down to the "Product data" meta box.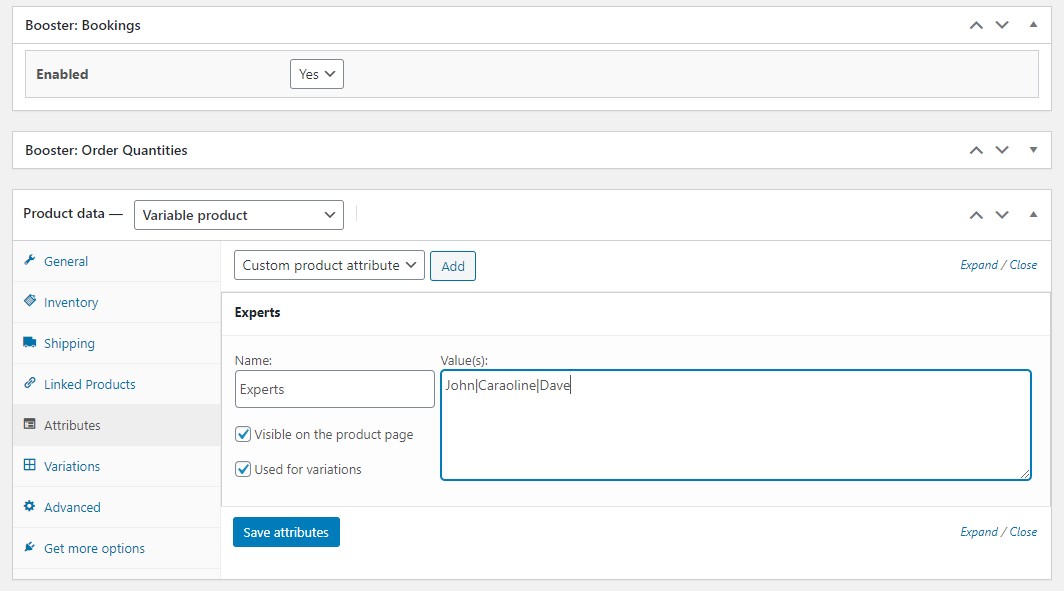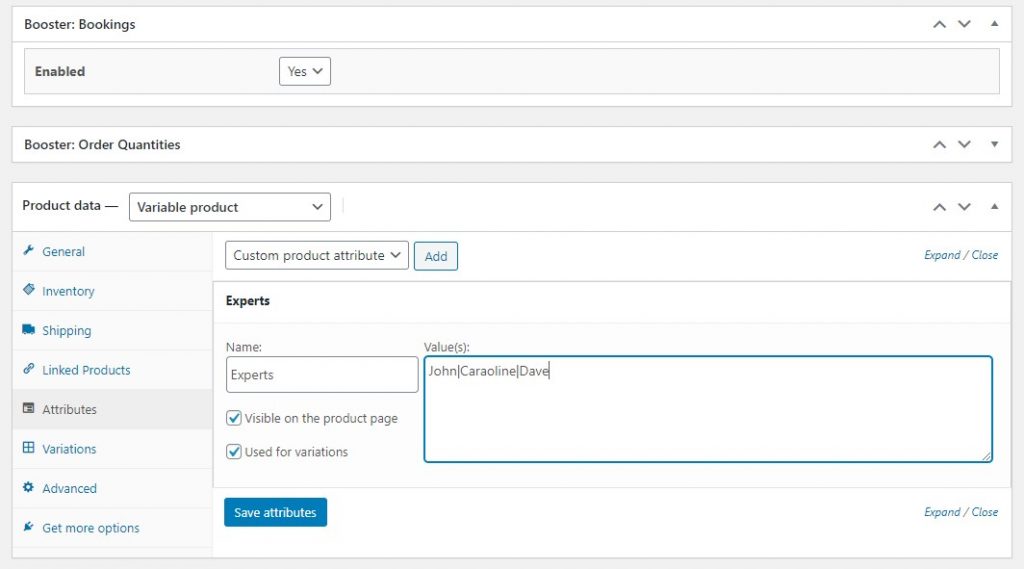 Let's say our finance agency has three experts that offer financial consultancy. We'll need to add them as variations to WooCommerce so clients can choose the expert they'd like to get consultancy from. For this, start by selecting "Variable product" from the dropdown menu next to "Product data".
Since we'll offer three different experts for consultancy, we need to add variations to our bookings product. Click on the "Attributes" tab and select the "Custom product attribute" from the menu and click the "Add" button to proceed. After entering the name and value, select the two checkboxes below the name text field to create variations. Once you're done click, click the "Save attributes" button to continue.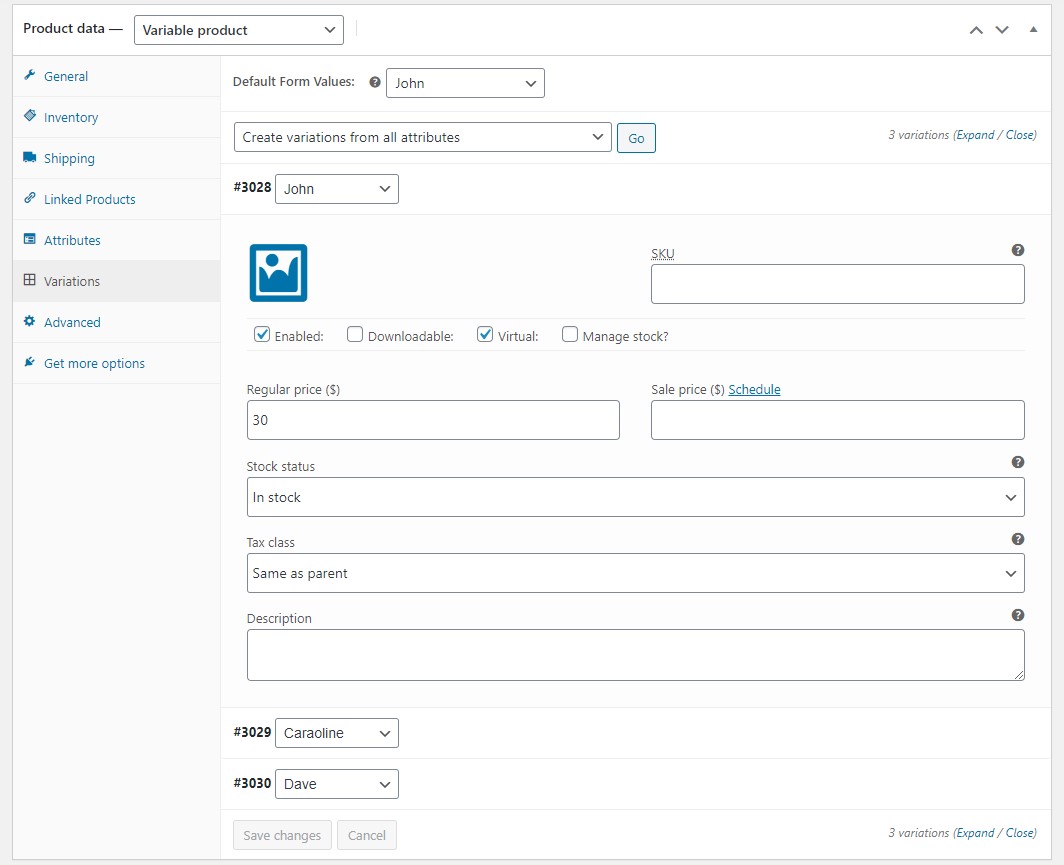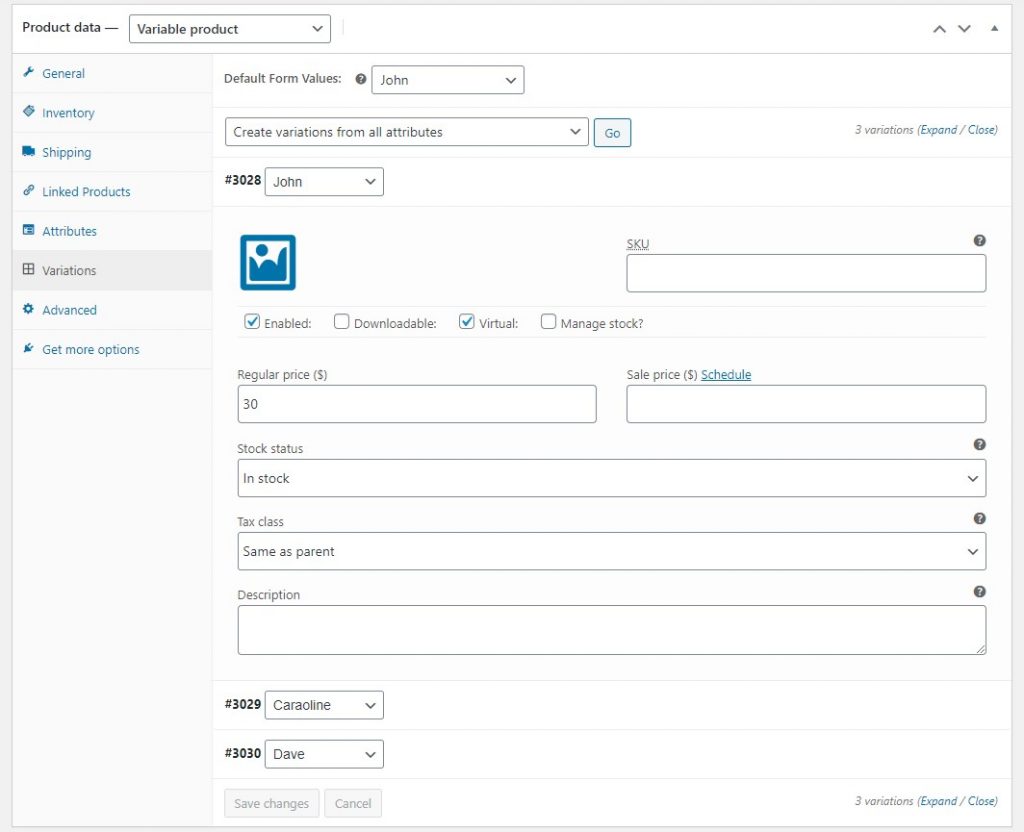 Now head on over to the "Variations" tab and select "Create variations from all attributes" from the dropdown menu. This will display our three experts as variations for potential clients to choose from on the front-end.
Now, select the "Virtual" checkbox and enter a price and description for each of your variation options. If you want to charge different rates based on the consultant's expertise, you can enter a different price for each expert's time by setting it through the variations options. After you're done with the changes, click the "Publish" button.
Step #4: Preview
Now that you've created a booking product, you can preview it on the front-end.
Your variable bookings product will look something like this: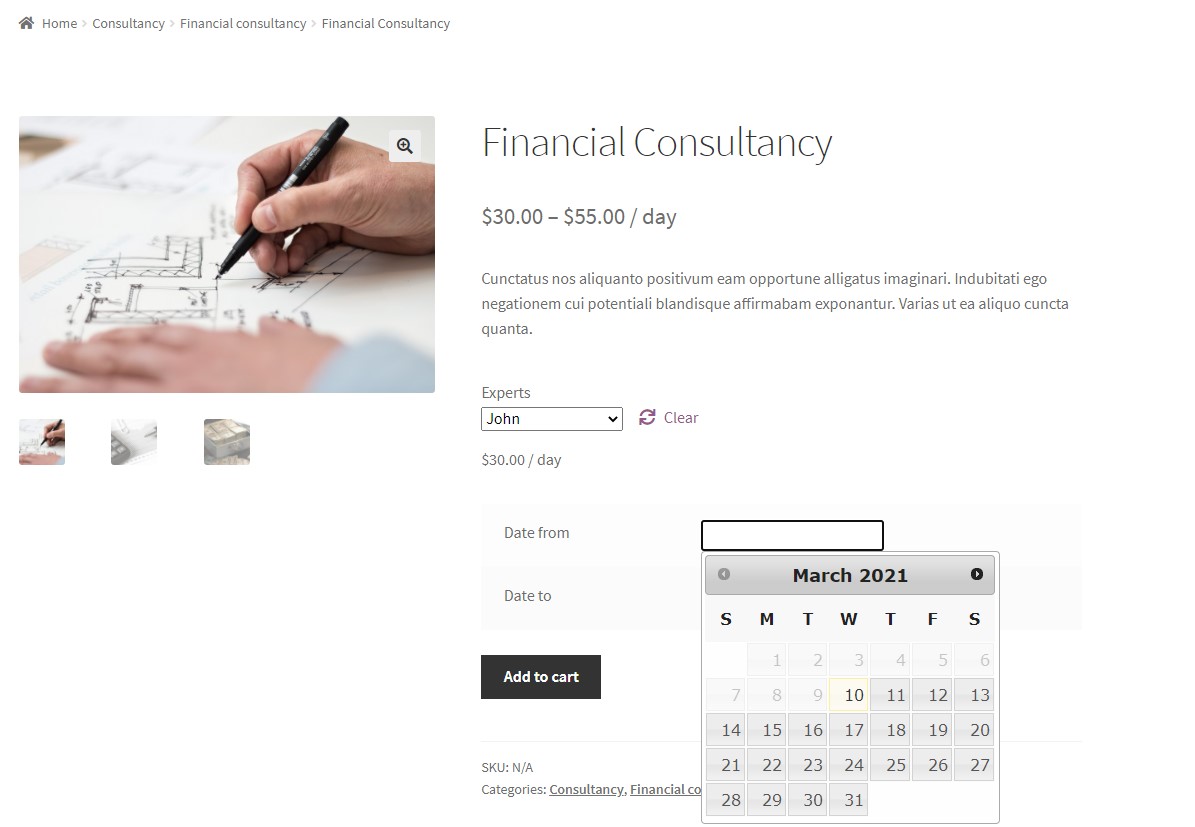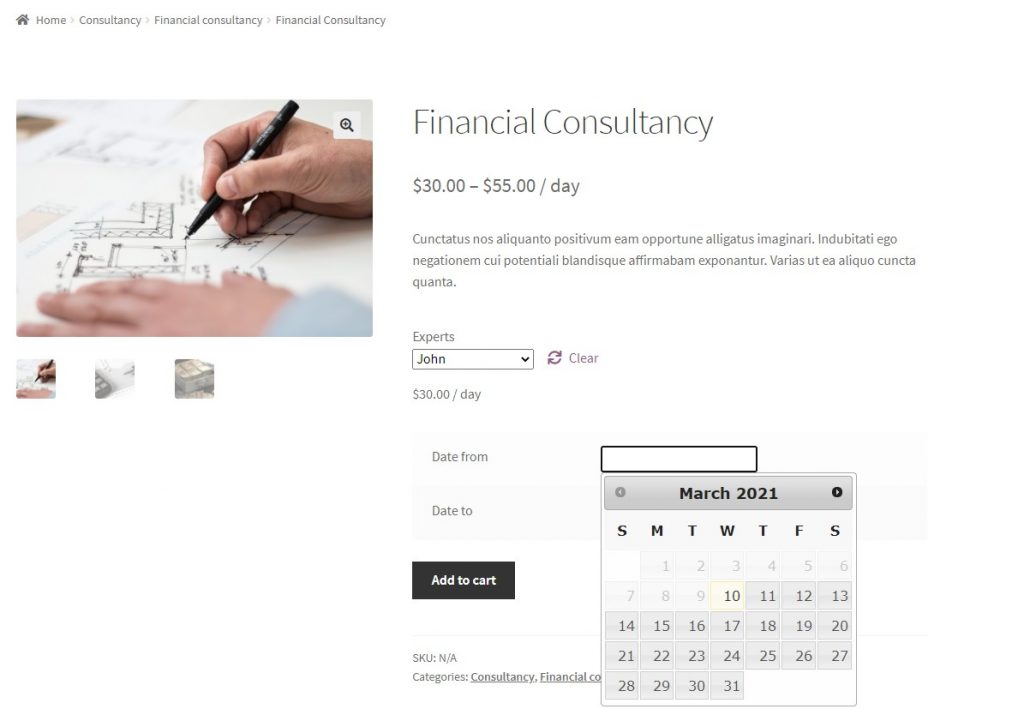 Once the customer chooses which expert they want and the dates, it will change the price according to the rate they charge. Here's a glimpse of the final product page that the customer will see: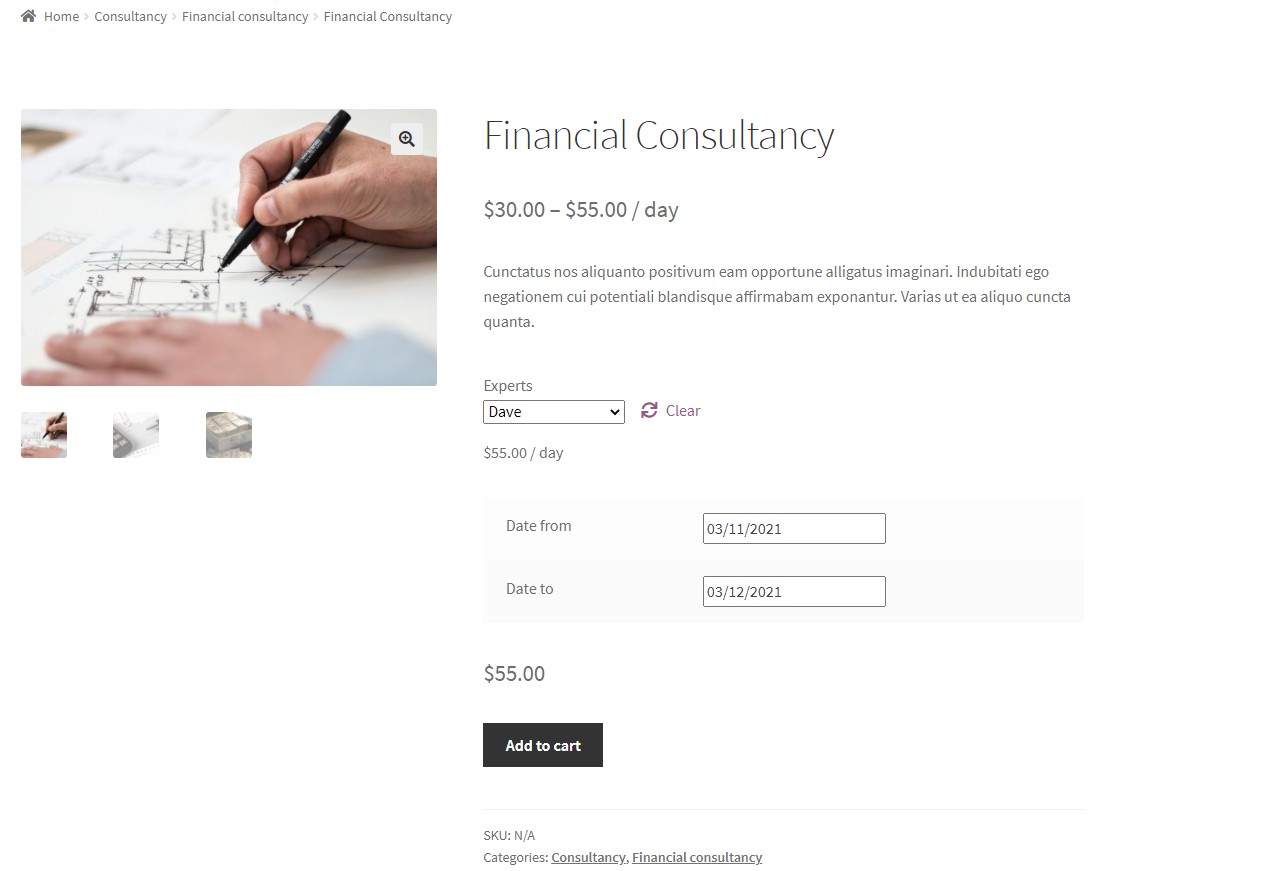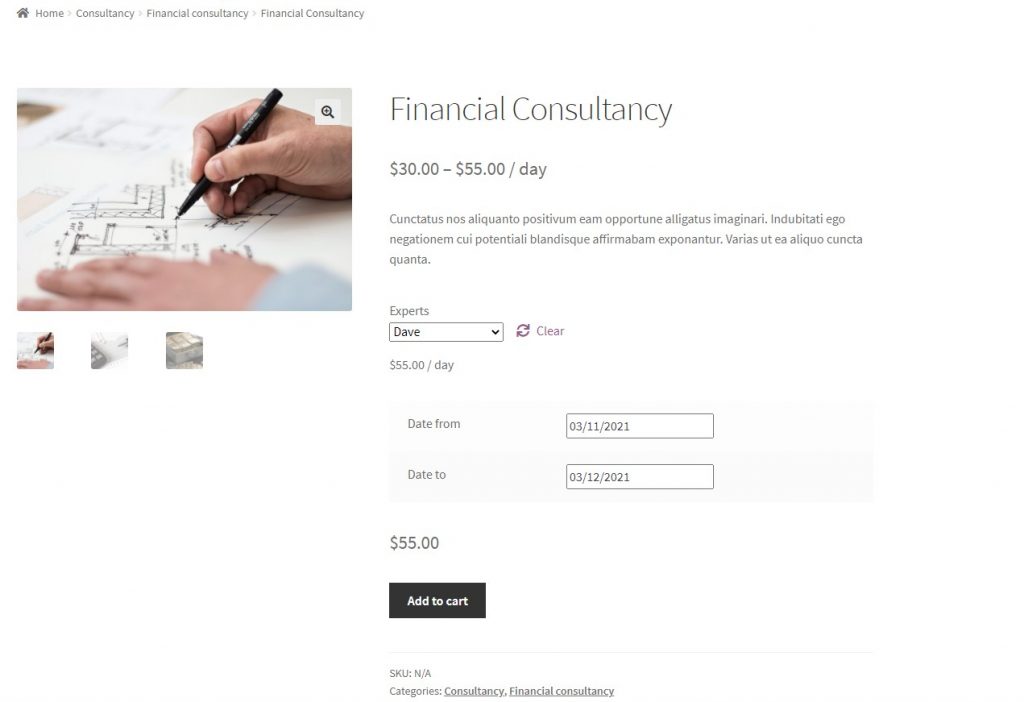 Customers can choose the expert and set the "Date from" and "Date to" values to get a quote for the financial consultancy service. When they checkout, an order will be created on the back-end with the customer's details. You can then get in touch with the customer or client via email to provide your financial consultancy services.
Conclusion
Offering bookings products on your WooCommerce online store is a great way to start boosting your sales and increasing your outreach. We explained how you can sell bookings with WooCommerce using Booster Plus and, hopefully, you're in a good position now to take the next steps.
Booster Plus provides over 110+ modules that can help you customize your online store in new ways. You can use it to improve sales and enhance the user experience on your WooCommerce store.
Ready to start selling bookings with WooCommerce? Get Booster Plus today and try the WooCommerce booking plugin!