Overview #
The WooCommerce Old Slugs Plugin – Booster simply enables the WooCommerce store owners to remove the old slugs and permalinks from their store/site database in one click. Unlike the conventional method that requires running several SQL commands on your WP Database, using this plugin is very easy.
How Do I Activate the Old Slugs Plugin in WooCommerce? #
Get started by buying the Booster Plugin and installing it in your store. This plugin is a big bundle of useful WooCommerce modules – not a few but 120+. No other plugin will enable your store with as advanced functionalities as Booster.
Go to the Booster > EMAIL & MISC. > Old Slugs.
Select the Enable checkbox for the plugin Old Slugs.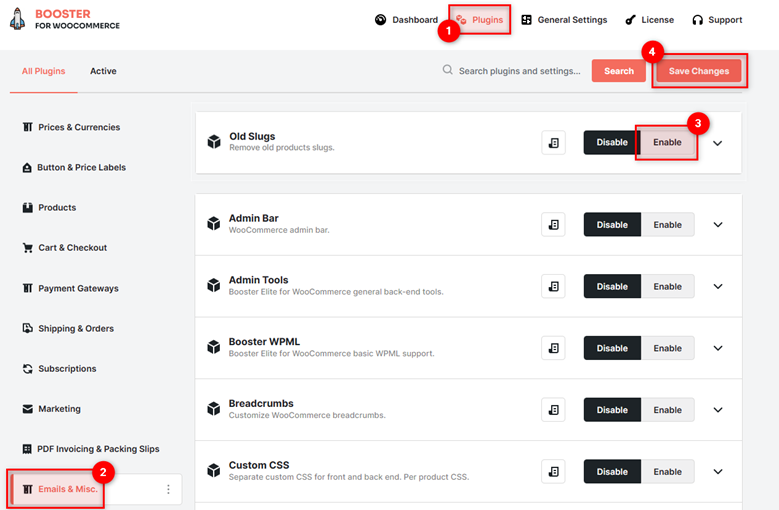 Click on the Save Changes
How to Use the Remove Old Slugs Tool for a WooCommerce Store? #
Once you enable the Old Slugs plugin, it will activate a tool named Remove Old Slugs for your WooCommerce store.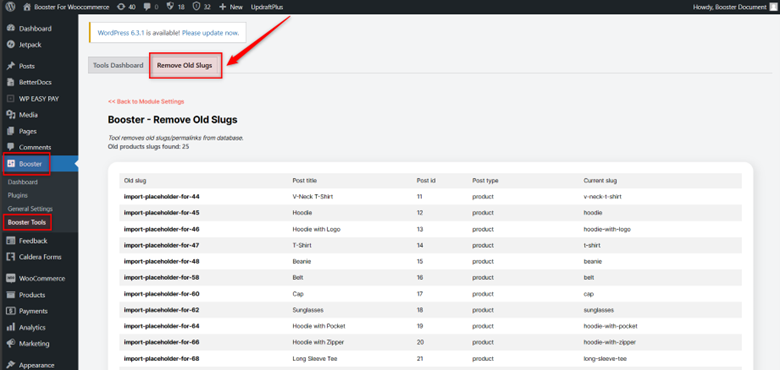 Go to Booster > Booster Tools.
Navigate to the tab Remove Old Slugs.
On the Remove Old Slugs page, view all the old and new/current slugs alongside their post ID, title, and Type in one place.
At the bottom of this page, you will see a button with the label Remove all old product slugs. Click on this button to clear the old slug or product page URLs/permalinks from your database at once.

Note: If you want to remove a few old slugs and keep others (though it rarely happens), the Booster – Remove Old Slugs tool will let you note down the details of all slugs to be removed quickly. With this information, you will be able to run your SQL commands flawlessly and do as you want.
Why remove old permalinks or slugs from your WooCommerce store? #
Make the Useful Slugs Available for Re-use
Keeping the old slugs or permalinks will make them available for new pages/products. It will prevent you from using these slugs for new web pages. As you might be willing to use a meaningful or intuitional slug for your online store, it is reasonable to clear the old ones.
If you have enabled 301 (Permanent redirect) for a web page, it is not compulsory that it will work immediately for your customers or users. The reason is that Google or other search engine crawlers might take some time to process this information. And when that's the case, your end-users will visit the old permalink. To avoid this citation, deleting the old slug makes more sense.
To Improve Store's SEO-friendliness
Keeping the old slugs will keep the old permalinks too. If shared through social channels or other means, these pages will remain accessible to your customers/audience. Due to this, your site's bounce rate may increase. It is not a good thing for your search engine visibility. Therefore, get rid of the old slugs and improve the site experience. It'll improve your SEO ranking too.
To Optimize your Database
Database optimization improves your online store's performance as well as simplifies your operations. Also, keeping the old slugs may confuse you sometimes. A slight mistake in the slug's spelling will delete the new slug. So, to optimize your DB flawlessly, use the Old Slugs Plugin to auto-detect and clear old slugs or product page URLs.
Do I need to keep the Old Slug Plugin Active at the Time? #
The Old Slugs Plugin does not hide your old slugs or product page URLs but clears them from the database. It means that it must be activated when you want to use the Booster – Remove Old Slugs Tool to clear the Old Slugs. Otherwise, it can be kept disabled.
Even if you leave this plugin enabled, it won't affect your site's performance much because Booster plugins are well-optimized and light.